Covid-19 Safety and Protocols



Athlete Package
For all of the details about the Games, make sure to review the Athlete Package. Click here.
Accomodations
Athletes and their accompanying chaperones will be given the choice, to either stay on the University of Ottawa campus in residences, or at a nearby hotel.
The Campus Experience
Every May through August, the University of Ottawa opens its residences to individual tourists, groups, and conference delegates allowing them to enjoy convenient and affordable accommodations.
All University of Ottawa suites are air-conditioned, and include two separate bedrooms with a double bed in each, a kitchenette equipped with microwave, fridge (kitchenware is not included), and a private washroom with shower. Units can house a maximum of four people, include complimentary Wi-Fi, linen and housekeeping services. You can find more information about residence accommodations here.
Meals
Meals on Campus
If you choose to stay on the University of Ottawa campus, your fees include meals at the Dining Hall for the following days and times:
Dinner on Thursday, July 28 (Welcome BBQ at the Athletes Village from 3:00 pm – 5:00 pm)
Breakfast, Lunch and Dinner on Friday July 29
Breakfast, Lunch and Dinner on Saturday, July 30
Breakfast on Sunday, July 31
The 2022 OSIG organizing committee will also be hosting a Community Feast on Sunday, July 31 at 1pm at the Athletes Village, which will be open to all athletes and their families.
Please note that meals are not provided for those athletes and their chaperones (and/or families) who choose to stay off campus.
Dining Hall
The all-you-care-to-eat Dining Hall is 100% sustainable. It serves three meals daily with a wide variety of options, including vegetarian, vegan, halal, made without gluten and much more. It is one of only three of its kind in North America, with a large 740-person seating capacity. Choose from 10 stations offering a variety of delicious meals made on site with fresh ingredients, along with a Desserts and Drinks stations. If you are looking for vegan and vegetarian options, the Pure station uses 100% plant-based ingredients.
The Dining Hall is open for the duration of the games during the following hours:
Breakfast: 7:00 am to 10:00 am
Lunch: 12:00 pm to 3:00 pm
Dinner: 6:00 pm to 9:00 pm
Location: University Center, level 1 
All athletes, chaperones and family members are asked to ensure that they follow the dining room rules, which can be found here:
https://www2.uottawa.ca/campus-life/eat-campus/where-eat/dining-hall/rules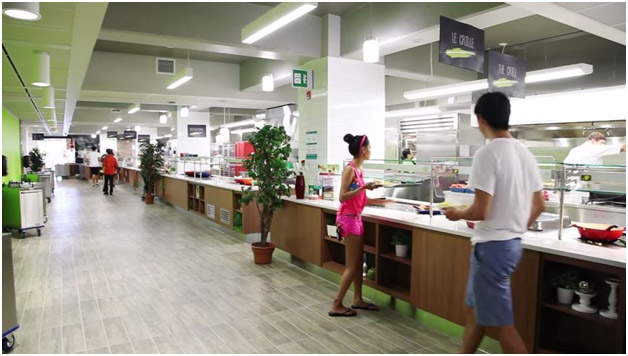 Mashkawazìwogamig: Indigenous Resource Centre
145 Séraphin-Marion Private
The Indigenous Resource Centre (IRC) is a culturally safe space which offers a variety of programs and supports designed with First Nations, Inuit and Métis learners in mind. It is a place where youth and their families can take a break from the games, meet your peers or learn from our staff and visiting elders and traditional knowledge keepers.
The Indigenous Resource Centre is open for the duration of the games during the following hours:
Thursday:  9:00 a m to 4:00 pm
Friday: 9:00am to 4:00pm
Saturday: 9:00am to 4:00pm
Sunday: Closed